Oliver Wight Releases New White Paper – My Bow Wave Ate My Hockey Stick, by David Goddard
When both Bow Wave and Hockey Stick occur, the outcome can be disastrous for the company and careers. In this free white paper, you will learn how Oliver Wight business advisor, David Goddard, helped a supply team that had lost the ability to plan and control their supply chain with realistic expectations, develop a plan, and solve the crisis before it hit red-line.
NEW LONDON, NH (PRWEB) SEPTEMBER 18, 2017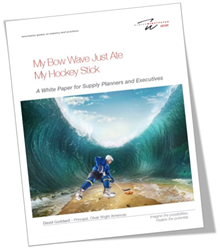 Oliver Wight has released a new supply planning white paper for executives and supply planners alike, discussing the hazards of the bow wave and hockey stick phenomenons colliding. The discussion takes place at an engineer-to-order capital equipment manufacturer where the plant manager has to deal with shortages of raw material and subassemblies, capacity availability, missed shipments, and corporate edict on figuring out ways to make up lost revenue.
Shop capacity was being dictated by feared revenue shortfalls. Unrealistic revenue plans were often based on unrealistic assumptions. Too many times, the executives would panic and manipulate shipments to show their board of directors better numbers. Through the use of Integrated Business Planning and a long-term planning horizon, executives can learn to anticipate a realistic revenue plan, achieve a realistic supply plan, and support the commercial team with a realistic demand plan.
In this paper, author and scheduling expert David Goddard explains how to maintain control of the supply chain and use demonstrated capability to plan capacity. Long lead-time materials are planned for well in advance, and excessive overtime is nipped in the bud; the goal being to ship the product when it was promised and at a cost that is beneficial for the company and for the client.
The title of this paper is "My Bow Wave Just Ate My Hockey Stick;" not a good position to be in. This paper will lay out a plan to avoid this predicament. To read this paper or to learn more about Integrated Business Planning, Demand Management, as well as background on Oliver Wight Americas, follow each of the links. Oliver Wight is credited with the development of S&OP and the evolution of Integrated Business Planning.
About Oliver Wight Americas, Inc.
Oliver Wight has a 40-year track record of delivering business improvement to some of the world's best-known organizations. We believe that sustainable improvement can only be made through your own people. Unlike other consultancy firms, we transfer our knowledge to you, which means you can achieve performance levels and financial results that last. Our business advisors are seasoned professionals who have real-world manufacturing experience. They are thought leaders in the fields of supply chain management, integrated business planning, demand management, and product management. The largest worldwide consultancy of its type, Oliver Wight has offices throughout Europe, North and South America, and the Asia/Pacific Region.